House Washing Will Make The Exterior Of Your Home Shine!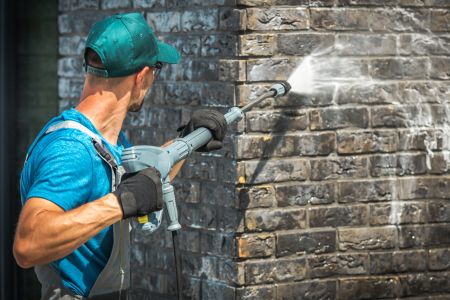 House washing. It's a bit of an odd term, but one that Monroe households have come to embrace as part of their homeowner vocabulary. With its many components, house washing can encompass exterior home revitalization, gutter cleaning, solar panel cleaning, window cleaning, and a host of others.
Every year after winter breaks, it's important to survey the exterior of your home and take note of the aftermath that winter's harshest elements have left behind.
As part of the Lake Stevens yearly home maintenance program, Champagne Reflections has perfected service to soft wash your home safely and effectively without damaging your vinyl, stucco or painted wood siding.
This is important for a few reasons:
House washing improves the exterior appearance of your home, office, condo or apartment building
Regular house washing maintains the health of your siding by removing dirt, mold, and mildew that can cause staining and allergies
A clean house promotes curb appeal, and that ultimately raises the value of your home
You may love washing your cars, boats, and jet skis, but if you're thinking about turning house washing into a DIY project, please know it's a service best left to the experts.
We've had field calls from many homeowners who attempted to house wash on their own and what resulted was a situation that left homes and decks stripped, dented, and damaged by procuring the wrong type of rental equipment and costly aftermath. Too much pressure can cause water damage, and too little pressure just dampens the surroundings and doesn't come close to removing that dirt and grime.
It's the very reason why Champagne Reflections is not only known as Monroe's window cleaning specialists but your first choice in professional house washing.
Let Champagne Reflections provide you with:
Experts in exterior rejuvenation
Specially formulated detergents that are safe for the environment but tough on stains
High-end soft washing equipment to make your home sparkle without damaging your siding
Do yourself a favor and hire the house washing and window cleaning professionals whose expert cleaning team is trained and equipped with the type of machinery tailored to each specific need.
We've found the house washing secret to successful and long-lasting curb appeal by working tirelessly with professionals who have created top-quality cleaning agents to bring your dull, drab exterior back to life.
You'll be visited by carefully skilled house washing pros who offer the best equipment and quality workmanship in town who are always armed and ready with the proper equipment to tackle even the toughest jobs.
Let the pros at Champagne Reflections in Monroe conquer the crud on your exterior by giving your home the soft washing it needs.
---
Latest Project
Cleaning With Pure Water System in Snohomish County, WA 98258
Cleaning 3rd story windows with waterfed pole using pure water (dries spot free and keeps us off ladders more frequently!) Help maintain your windows, so the dirt doesn't further damage the tracks […]
Large Commercial Church exterior window clean in Snohomish County, WA 98204
Semi-annual Large Commercial Church exterior window clean. Help maintain your windows, so the dirt doesn't further damage the tracks. Continue to let pure sunlight pour in, which allows for a hap […]