Make Sure Your Solar Panels Are Always Storing Energy With Solar Panel Cleaning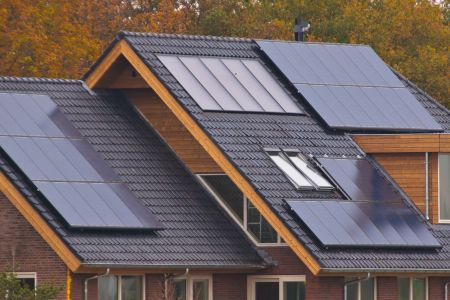 Going green can be costly upfront but ends up saving you a tremendous amount of money in the long run. That's why we're so excited to offer homeowners in North King County or Snohomish County the much needed solar panel cleaning services necessary to keep your solar panels clean, well-maintained, and energized.
It's a good idea to freshen up your panels frequently, especially if you live in an area with heavy particles in the air. High amounts of smog, dust, dirt, or sand blowing make solar panel cleaning a necessity.
At Champagne Reflections, we're always on the cutting edge of what our customers need most. With the influx of solar solutions now offered to clever homeowners, we're not only known as the best-rated window cleaning specialists in the Lake Stevens area, but we've trained our expert team in solar panel cleaning to help maintain your home, keep you free from debris and keep you energy efficient.
We've seen the downside of homeowners attempting to do this on their own, which is why we've extended our team to adapt to the growing needs.
Hiring Champagne Reflections as you solar panel cleaning specialist is a must because:
Dirt and particles can build up on solar panels causing inefficiency in energy consumption
Our specialized cleaning approach will effectively remove grit that other over-the-counter chemicals and abrasive scrubbers can't
A delicate approach to cleaning allows us to maintain your solar panels without damaging the surrounding area
Besides, once the expert team Champagne Reflections is on your roof, we're able to survey additional home maintenance hot spots that may need attention without your ever realizing it.
An often neglected household chore is gutter cleaning. While your roof shelters you, your gutters provide necessary drainage from water settling in on shingles, causing a build-up that leads to frustrating roof leaks.
Champagne Reflections is a one-stop-shop. Let our team divide and conquer by removing grit, grime, and build up in your gutters while we're already working on your roof. We'll take care of your home's exterior, keeping it efficient and well-maintained.
With solar panels on the rise, Google conducted a groundbreaking experiment at their 1.6 MW solar farm in Mountain View, California.
They found that cleaning solar panels are "the number one way to maximize the energy they produce," and by doing so, the panels in operation for 15 months doubled their output of electricity.
You can't argue with that research. By keeping your solar panels clean with Champagne Reflections:
Energy and efficiency is maximized
Trained teams will use de-ionized water and cleaning tools
We'll add additional curb appeal to your home
Leave the roof maintenance and the safety and efficiency of your North King County or Snohomish County house to our team of solar panel cleaning experts with Champagne Reflections.