Dirty Solar Panels Reduce the Sun's Rays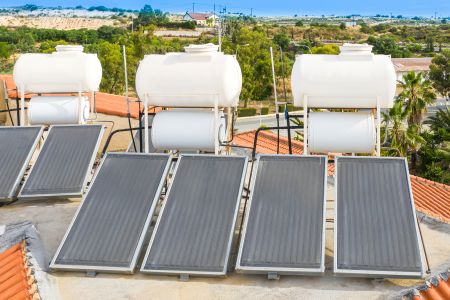 Solar panels are popping up by leaps and bounds,and our reliable window cleaning pros at Champagne Reflections couldn't be more delighted. Expanding solar panel cleaning into our pressure washing business model means that we're excited to welcome these new neighborhood additions.
Our specialized solar team has created a soft washing service to keep your solar panels soaking up the sun while maximizing the efficiency of your home.
Solar panel cleaning is all about expertise. There's a very delicate balance on how to do the cleaning properly from setting up the exact timing to not compete with the sun's maximum efficiency to setting up the proper soft washing cleaning methods to reach every panel.
Our solar panel professions are trained to be cautious, focused, and efficient in the cleaning and maintaining of your solar panels, especially when dust, dirt, pollen, bird droppings, and debris hinder the heat-seeking elements.
Much like our gutter cleaning service, the approach to solar panel cleaning is gentle and non-abrasive. Our pressure washing experts take their time with soft washing each panel with an environmentally-friendly, non-toxic detergent mix that tackles even the most stubborn dirt, grime, and grit while keeping your solar panels streak and scratch-free.
Many homeowners have attempted this themselves, but there is an imminent danger when trying to tackle this project on your own. One slip on the roof and you not only jeopardize your health and welfare, but you can also do damage to your solar panels, brackets, and overall roof. If you're not adequately trained in detergents, some of the over-the-counter solutions that are sold may make your panels even more affected and potentially scratched.
If it's money you're looking to save, then you've come to the right place. No one can put a value on life, and that is why we encourage our clients to think of the big picture and stay away from hard-to-reach areas and leave that to the pros. We've priced this service competitively because we know this isn't just a once in a decade type of maintenance.
We're always straightforward with our Duvall customers and share the latest in industry experience and support, which is why it's important to remember that simple rainwater can't maintain the integrity and cleanliness of your solar panels.
We've done our research and compiled that evidence, so we're proud to report that Google conducted a study proving that professionally cleaned solar panels had a 12% higher output of electricity than allowing your panels to simply be washed by the rain.